Hi Zestycook readers! My name is Danielle Omar.  I'm a nutritionist and I blog over at Food Confidence. You might remember me from last week when Zesty was talking about his "silent" detox. Well, he's asked me to help you get healthy by sharing some of my favorite smoothie recipes with you. So each week on Friday I'll be sharing a new smoothie here on Zestycook!
My smoothies will be detox-friendly.  What does that mean?  They'll be dairy, sugar and soy free. That's right, no yogurt or cow's milk.  No worries, they'll still be creamy and delicious!
I'm going to take you out of your comfort zone a bit and open you up to some fun new ingredients! This week's smoothie is a coconut, almond and chocolate delight.  Super simple to make and a perfect start to your day.
If you've never tried coconut milk, you're in for a treat!  It gives your smoothie a creamy consistency and if you use a "light" version, it's not too high in calories. Coconut milk, along with almond, hemp, rice and soy milk, is a type of plant milk.  You can buy it in the can or in the box, just make sure you get the unsweetened version.   Although coconut milk contains saturated fat, it's made up of short-chain and medium-chain fatty acids, which the body quickly turns into energy instead of storing as fat. It also contains lauric acid, which is anti-viral, anti-bacterial, anti-microbial and anti-fungal which can strengthen your immune system.
Chocolate Almond Joy
Ingredients
½ cup canned light coconut milk
1 Tbsp almond butter
1 banana (can be frozen)
1 scoop chocolate protein powder ( I used Vega One)
Dash cinnamon
Unsweetened shredded coconut flakes
5-6 ice cubes
Method
Add all the ingredients in your blender and blend until desired consistency.  Pour into your glass and top with shredded coconut.  This recipe makes enough for one smoothie!
Zesty Tip: Never throw out your bananas, throw them in the freezer. To use in smoothies, microwave for 30 seconds and squish out the goodness.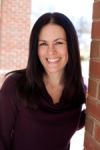 Danielle Omar is a nutritionist for busy men and women, focusing on creating personal eating strategies through her signature approach, "Learn it, Live it, Love it." She loves helping working parents, busy families, and stressed out professionals change the way they think about food. Join
Danielle's newsletter
for inspiration and tips to help you become a confident eater.